A fully automated welding robot can multiply a company's productivity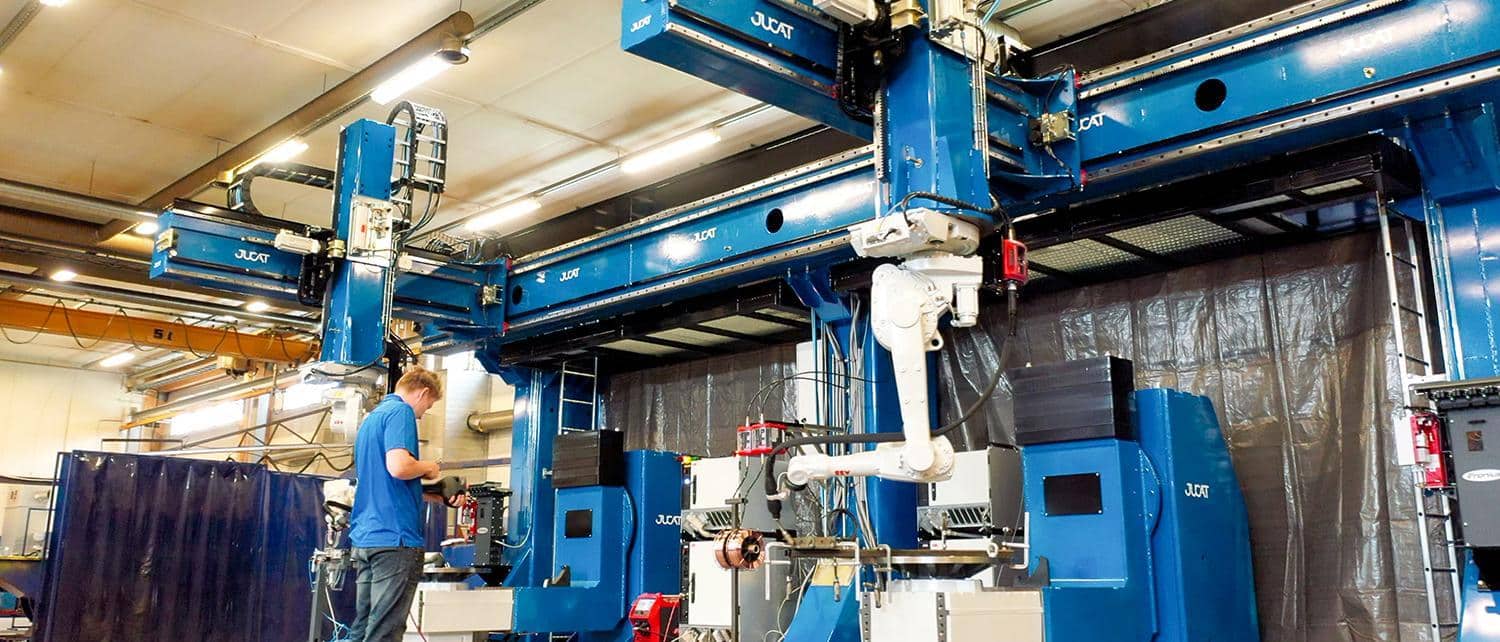 Recent developments in welding processes have set profitability challenges for companies who rely on traditional welding methods. Today, production is undergoing automation at an accelerating pace, which puts companies who carry out work manually in an unfavourable position.
To retain profitability, companies need to make investments that temporarily take them out of their comfort zone but can generate results in just a few months.
When we use robots in welding, we can not only improve product quality and the company's profitability, but also free up human resources for work that requires more thought.
However, there's no need to jump straight from traditional, manual welding to an army of automated robots; just a traditional robot welding station can improve your productivity several times over. There's a suitable solution for every company, regardless of the details of your mass-produced products.
Manual welding requires time and precision
In fully manual welding, smaller objects are measured and positioned by hand. During welding, the object is kept on a table or on the floor, depending on its size, and it is turned and moved by hand or using a hoist, again depending on its size. In practice, manual measuring, welding and positioning require extreme precision and take time, and the result depends greatly on the welder and working conditions.
Welding jigs and workpiece positioners accelerate positioning and turning the objects, which makes the entire process more efficient. An object that takes two hours to weld by hand could be welded in just one hour using a jig. Workpiece positioners meanwhile improve efficiency as well as occupational safety and ergonomics, because the risks of occupational accidents decrease significantly. The device also turns objects more efficiently than humans can, which speeds up the work by around 45%.
Although jigs and positioners help in production, they do not sufficiently improve a company's competitive advantage. The move to a traditional welding robot station is one good way to take your production's manual welding to the next level.
Robot welding station removes variables and makes production more efficient overall
The greatest benefit to robot welding is a standardised process and the removal of variables that result from manual work. Objects that are to be robot-welded are placed in welding jigs and positioned without separate measurement. The object is attached to the welding bracket on the robot's table and welded in the bracket. In traditional robot welding, a person puts the objects in place, removes them after welding, and selects the correct welding program depending on the object that is being handled. There are usually two people: operator 1 collects the product components and tack welds them using jigs for robot welding, and operator 2 changes the products, selects a program and runs the cell.
In a standardised process, the robot always performs welding according to a pre-set program. This significantly reduces the impact of human factors on the result. It is also several times more efficient. With manual welding, an average of 1 kilogramme of consumables can be melted per hour, but using robots, up to 10 kilos of consumables can be melted per hour.
A multirobot cell elevates a company's competitive advantage to an international level
When we talk about utilising robots in welding processes, we're referring to solutions that serve companies of all sizes. In Finland, the majority of companies which utilise robots in welding are still at a point where human labour comprises a significant share of production. By fully automating production, we can free people up for tasks that develop business operations more quickly. This is possible using multirobot cells.
A multirobot cell contains one or more positioner robots and a welding robot, various FMS conveyors that handle material logistics, and perhaps machine vision and laser seam finding/tracking to aid the process. Laser seam finding quickly finds various surfaces and starting points, and then laser seam tracking handles the repair in real time. This always ensures the best possible welding quality. If there are two robots in a welding cell with one welding and the other handling the objects to be welded, machine vision can be used to show whether the parts are always in the correct place and position.
Everything takes place automatically in these cells. The product pallet is fed onto the FMS conveyor in the cell, which automatically attaches to the robot table. A material pallet consisting of objects that are to be welded in the warehouse or supplier premises is also placed on the conveyor, and the positioner robot will pick them one by one and place them on the product pallet. The welding robot tack welds and welds the pieces, which are then transported away from the cell using the FMS conveyor.
The station can be run without operator supervision, and so it is fully automated without a person touching the object at all during production. And as the process is always the same, the product manufacturing site no longer has any impact on the result.
The investment will repay itself in as quickly as 18 months.
Precise calculations on the increase in productivity depend fully on the company, raw materials, welders, and the company's capacity to deploy the new station. If the company does not have any experience with robot welding, it's worthwhile to first switch to robot welding, and only then move to multirobot cells later on. This will make the transition easier.
An investment into a robot welding station normally pays itself back in around 1.5 – 3 years. Use of the new station will initially require some learning and incorporation of the processes into daily work, which naturally demands some mental resources from employees. Productivity of a new station is often initially around 40%, but it will rise to a full 100% within around four months, depending on the company's capacity and expertise. Multirobot cells can achieve their full productivity in around six months. To reiterate, the company's capacity and previous experience with robots always determines the period of time it will take to realise the productivity calculations.
Customised robot solutions can get even more out of the increased efficiency. We've noticed that customised robot welding stations have generally improved companies' productivity by up to 70%, which is a significant increase in profitability.
Jucat offers top-tier robot solutions in collaboration with ABB Robotics
Jucat Oy and ABB Oy Robotics have cooperated closely on robot solutions since 2014, and in 2019, Jucat became an ABB Value Provider Partner. As a result of the cooperation, we have been able to offer our customers a wider range of automation solutions with which we can significantly boost production quality, safety, and productivity.
ABB Oy Robotics delivers what are referred to as standard welding stations directly to customers. Jucat meanwhile delivers larger and customised welding stations that can handle masses of up to 30,000kg. The stations often also use a range of Hi-Tech features, such as laser seam finding and tracking, and machine vision. For customised stations, Jucat comprehensively handles the stations' project management, design, and delivery to the customer. ABB meanwhile supplies the robot device components for stations designed by Jucat.
Collaboration also includes mutual sales support and simulations, especially for 3D modelling. The cooperation has increased our geographical reach and we can now better serve international customers with deliveries and maintenance.
Jucat offers tailormade solutions for your robot welding needs
Designed and assembled by Jucat
Different welding techniques
Different levels of automation
Using ABB Robotics