Fight tough with tough! Jucat's advanced positioners boost competitive ability in increasingly competitive markets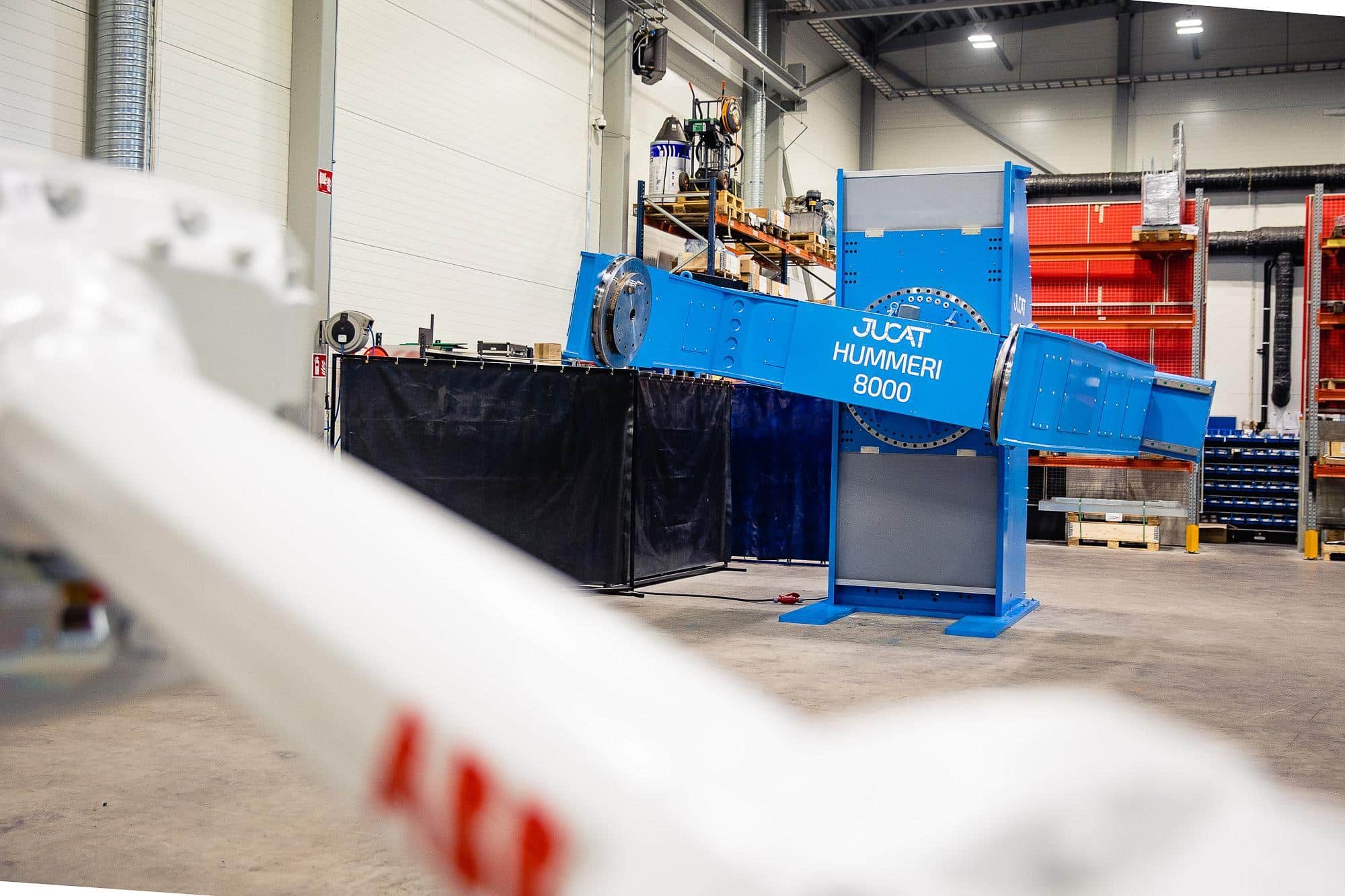 Faster production and tougher competition. These aren't just phenomena anymore; they are a daily occurrence in the manufacturing industry and machine workshops. We've kept this in mind when developing our positioners. Their most important purpose is to increase our customers' competitive ability. You don't achieve this by focusing on just one aspect and neglecting other areas. Our positioners are used to simultaneously develop four factors that significantly affect competitive ability with immediate results: boosting production, maintaining high quality in all areas, cutting costs, and improving ergonomics.
What do our customers think of our positioners, what kinds of solutions have we implemented for them, and what makes our positioners so efficient and advanced that we issue a productivity guarantee for them? This article will deal with each point in detail.
Case examples: Wärtsilä, Outotec Turula, and Valmet
Our positioners have increased the productivity of our customers' work by 30–40%, and in some cases by significantly more. Their benefits are clearest in companies which handle objects weighing in excess of 1,000 kilograms. When those companies replace their crane with a positioner, production increases significantly.
Numerous companies trust in our positioners, including Wärtsilä, Outotec Turula, and Valmet.
Wärtsilä
Our now lengthy collaboration with Wärtsilä began with rather small projects, which gradually became larger and larger. Our latest positioner delivery was customised fully to meet Wärtsilä's needs, and design was carried out together with Wärtsilä's production development team. The project saw the partial automation of a previously manual positioner, and it rotates an axle using a selected program. In the future, the aim is to fully automate the crank axle assembly, which was also kept in mind when designing a new, special positioner.
""The solution designed by Jucat has increased efficiency because we can now do more at once, and more quickly. Work ergonomics have also improved noticeably." Project manager Jussi Laulaja, Wärtsilä.
Outotec Turula
We have delivered several fully customised positions for Outotec Turula. Turula's production handles some seriously large objects. Previously we delivered a grill-type positioner that can handle up to 32,000kg. Our last project converted the old grill positioner into two L-type positioners. The new positioners can each handle objects weighing up to 10,000kg. Our positioners have provided many benefits for Outotec Turula's production.
"Using cranes, objects are always turned in 90% steps, so the product is not always in the optimal position with regard to welding. Using positioners, objects to be welded can be rotated without steps, so they are always in an optimal position for welding. The devices make it much easier and precise to handle the objects, and this is clearly reflected in occupational safety, quality, and productivity." Factory manager Markus Mutanen, Outotec Turula.
Valmet
We delivered several different types of positioner solution for Valmet's Jyväskylä site. Valmet's aim was to increase the productivity and safety of the manufacturing process, not forgetting ergonomics. We responded by customising dedicated positioners for different sizes and product families, paying particular attention to the device's technical level, which makes a safe and ergonomic work environment possible.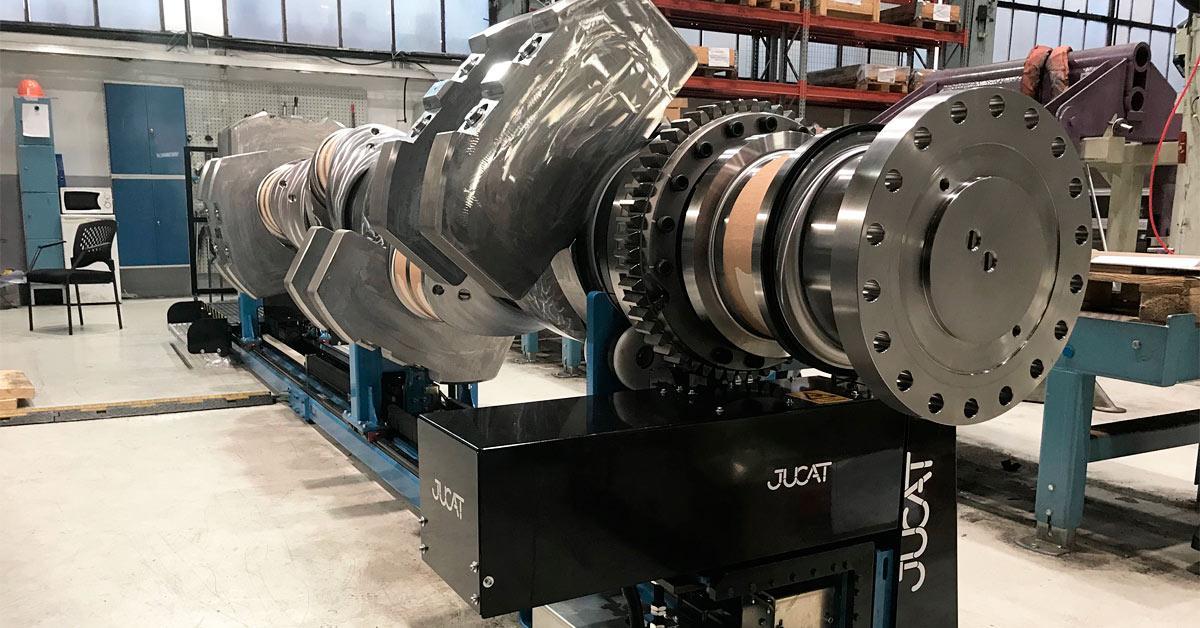 Positioner delivered to Wärtsilä
The innovative features of Jucat's positioners are in a league of their own
What makes our positioners so effective and unique? The answer lies in careful product design that gives our positioners unrivalled features.
Safety and ergonomics
Thanks to the speed adjustment function, lifting and lowering can be carried out softly at a lower speed. The speed can be increased once the load has been lifted to a safe height. It is also possible to adjust the speed at which the device rotates.
The piece is fully attached to the device. Both ends of the piece move simultaneously during lifting and lowering, with no wobbling.
Collision thresholds can be saved in the positioner.
The piece can easily be turned to a suitable angle for working, and can be lifted or lowered to a suitable height for individual employees.
All welding can be carried out optimally in the flat position.
Boosting production
The programmable work cycle can be programmed for several points, and in the desired work order; our positioners always automatically turn the object to the correct position.
Production becomes more efficient as all work phases are carried out in an optimal position and at the optimal height for each employee at the touch of a button.
Our positioners allow for work to be stopped and continued later on from exactly the same point.
In addition to their large lifting capacity, they also have high rotational torque.
You can start handling an object much more quickly with a positioner than with a crane.
Jucat positioners are typically in full production use on the work day immediately following installation.
In our experience, production increases by at least 30-40% with our positioners.
Cost savings and improved quality
The programmable work cycle and the device automation mean that no time is spent trying to find a suitable working angle – resulting in a shorter turnaround for projects. Work is also of the same quality regardless of who carried it out, as everyone carries out each work phase from the same angle.
The possibility of carrying out all welding work effectively in the flat position means that the result is of a more even quality and work takes place more quickly.
When work ergonomics and safety are in order, unnecessary absences due to illness decrease.
Our positioners prevent damage and dangerous situations from occurring as a result of objects swinging or slipping. Collision thresholds means that the positioners will not collide with other devices or structures.
A positioner typically repays itself within one year, and sometimes in a single project.
The advantages that come from using our positioners benefit not only the company that uses the device, but also its employees, and its customers. Production projects have a shorter turnaround, more consistent results, and are employee-friendly.
Increased production efficiency, a more consistent result, cost savings, and improvements in ergonomics are achieved in production immediately after deploying one of our positioners. Thanks to our advanced and efficient planning and production processes, we take full responsibility for our solutions and give them productivity guarantees – that's how confident we are of our positioners' benefits.
Are you interested in buying or hiring a Jucat positioner? Contact us and let's map your needs together!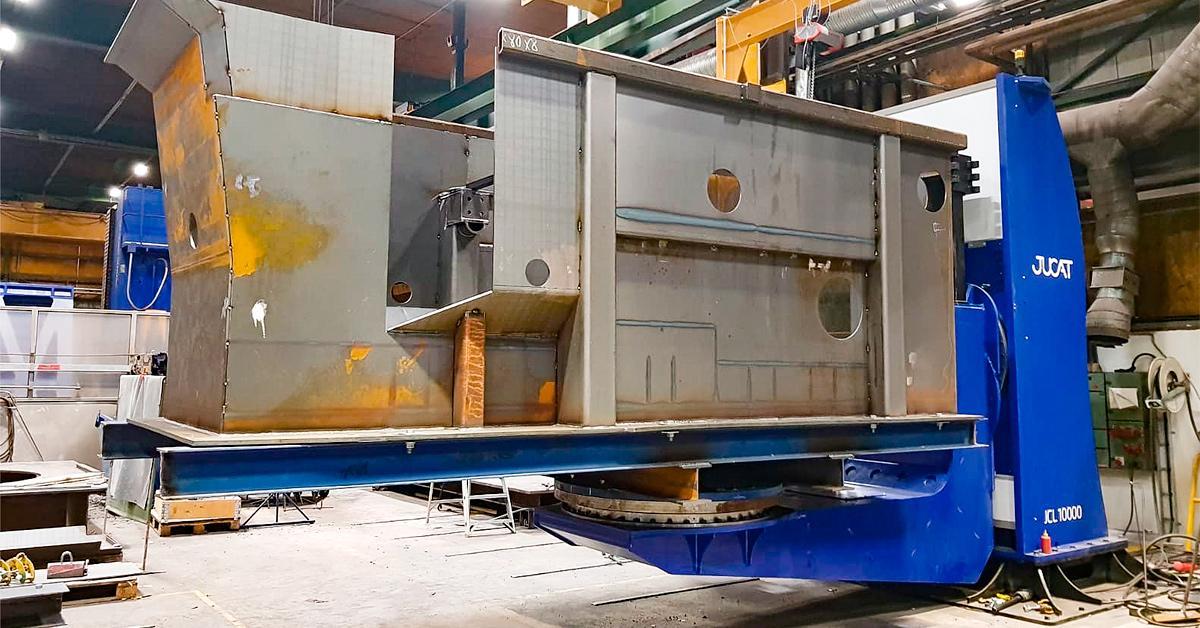 Positioner delivered to Outotec Turula.