Škoda Transtech
Successful collaboration on Škoda Transtech tram production line
Škoda Transtech is Europe's leading manufacturer of tram and railway vehicles for extreme climatic conditions and a significant contract manufacturer of medium-heavy workshop products. The company has more than three decades of experience with designing and manufacturing rolling stock products. The company is especially proud of its double-deck passenger carriages and its low-floor trams. Its head office is in Oulu, its manufacturing base is in Otanmäki, and it has maintenance units in Helsinki and Tampere. Škoda Transtech is part of the Czech Škoda Group, which has subsidiaries in Germany, Hungary, and Turkey, in addition to Finland and the Czech Republic.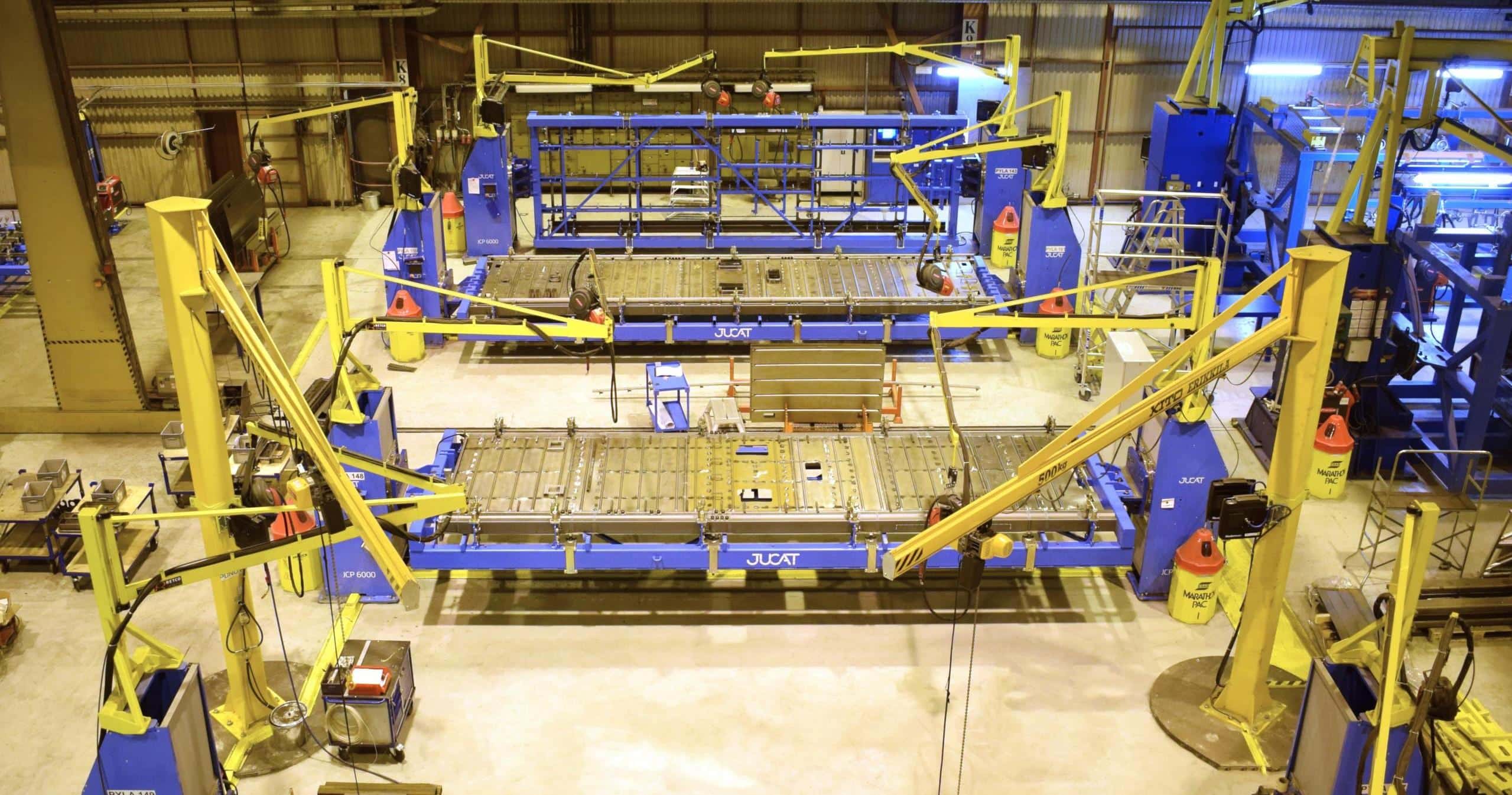 Successful collaboration on a tram production line
When Škoda Transtech Oy contacted Jucat in 2008, it planned to increase the domesticity of its double-deck carriage product family by moving the manufacture of carriage bogies from continental Europe to the Otanmäki manufacturing base in Finland. Another aim was to combine effective manufacturing with reliable jig and production methods, enable robotic welding, account for occupational safety, and ensure a well-thought-through ergonomic production environment.
At that time, the company was seeking a company with expertise in jig and workpoint technology in particular. Jucat was chosen as the supplier. The result of this first joint project was an effective and balanced welding production line, with the safest and most ergonomic tools selected for its various phases.
Bringing manufacturing to Finland was a great success, and the project was an excellent starting point for collaboration, which has since deepened and widened over the years. Jucat and Škoda Transtech are currently collaborating closely on production development. In addition to the jigs, workpiece positioners designed for medium-heavy products and manufactured by Jucat also improve production efficiency, precision, and consistent quality on the production line.
Carefully planned critical points create an effective whole
Collaboration between the companies is led on the Škoda Transtech side by Otanmäki plant manager Marko Hurskainen, who is responsible for the Otanmäki production plant's operations from production and occupational safety to production technology and investments. He began work at the Otanmäki plant in 2007 in production development and knows the details of tram carriage production like the back of his hand.
"One critical point in our production is the tack welding of the body shell of the tram carriage, which is determined by the shape and tolerances of the body shell. Jigs are used to ensure that the result achieved through tack welding is within shape and measurement tolerances, and allow the product to be duplicated. It's at this point that we also see how the design of the product, production and production technology have succeeded, and weigh up the suppliers' skills and understanding of the behaviour of the materials used in the production process."
Tram carriage production lines are long and complex, with points that require particular precision occurring throughout the production line. The service life of demanding products is 40 years under dynamic load. All of the product welds are categorised, so in addition to technical precision, the optimal welding position is also necessary to ensure that the product meets requirements.
"During final welding, workpiece positioners are used to ensure that the workpiece is not only in the right position not only from a welding-technical standpoint, but also ergonomically. We have been very satisfied with the high quality, reliable structure, and availability of components for Jucat's positioners," summarises Hurskainen.
A methodical approach, flexibility, and shared successes
Škoda Transtech's production process typically involves long but intensive production times. Tight schedules include day-specific targets, so keeping within the set framework requires the company itself and the supplier to have a methodical approach, flexibility, and the ability to come up with solutions – sometimes mid-project – to ensure communication and stick to the schedule.
"Once we've taken a product forwards from design, we examine the production technology and structure together with our own and Jucat's experts to consider where the solutions will be placed, what productivity matters need to be considered in particular, and how they correlate with our jig or workpiece positioner needs. It is deep collaboration, and it's also important for the supplier to be involved with product development processes," says Hurskainen of the production design process, and continues:
"With Jucat, we've also achieved efficiency in the production of various products by applying standard solutions. When you utilise a standard method in this way, you can speed up the design phase, simplify component needs, and improve cost-efficiency. We have tram carriages in various shapes and sizes, and double-deck carriages, but the solutions aren't product-specific; they can be used quite widely in production."
Increased collaboration benefits everyone
Both parties benefit from the companies' developing operations and, from Škoda Transtech's perspective, the supplier's investment in new areas of business. Collaboration will deepen with the new solution models, and Hurskainen is following Jucat's future development projects with interest:
"Jucat has had just the right expertise for us, and they always keep their promises. They also always take the required action to ensure that schedules, communication, and technical solutions work. For example, at some points we needed more detailed projectisaton, and Jucat responded by recruiting more professionals. Not all of our needs are unambiguously easy, but together we've found suitable solutions for everything. We've also always been able to negotiate things cordially."