Outokummun Metalli
Finland's highest-quality welding automation – Outokummun Metalli's production capacity increased by two robot welding cells
Established in 1980, Outokummun Metalli Oy is a metal industry company that specialises in manufacturing timber harvesting machinery. The company is the world's largest manufacturer of harvester head frames and is part of the global forest machinery business via its partner John Deere. In addition to harvester heads, the company also manufactures grapples for forwarders, excavators and trucks. The desire to modernise has been at the core of Outokummun Metalli's operations right from the start, and it was that desire that led the company to Jucat.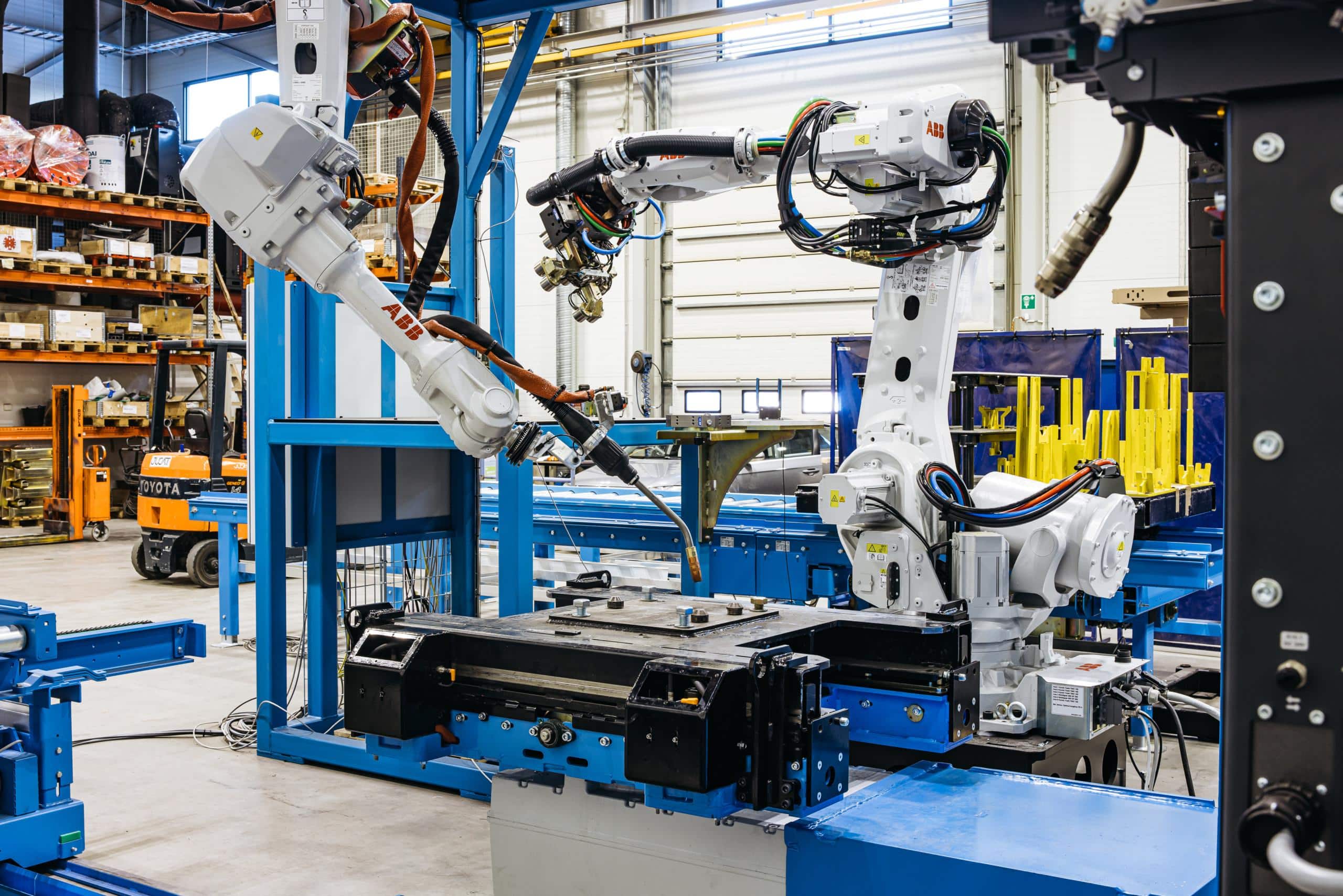 Finland's highest-quality welding automation – Outokummun Metalli's production capacity increased by two robot welding cells
Long-term customer relations, high quality, and effective operations have always been the cornerstones of Outokummun Metalli's business operations, and the company maintains them through continuous development, collaboration, and staff training. Their will to modernise and progress is still strong, which led them to think about how they could take developmental strides in technology while seeking new productivity and quality, particularly from the customer's perspective.
Outokummun Metalli's managing director Jarmo Paakkunainen says that the company began by internally investigating what this development step would entail and the kind of target that could be set.
"We chose not to take the simplest and easiest step; instead, we focused on a very complex welded structure, harvester head frames. First we carried out a technical investigation by assessing whether our idea was feasible in theory and in practice. Once we were convinced, we first contacted ABB to enquire whether they could recommend a solution provider. That's how we heard of Jucat."
From concept to reality – the result is a fully automated hi-tech robot cell
Collaboration began with a visit by Jucat representatives Jukka and Anssi to Outokumpu. They sat down to discuss Outokummun Metalli's thoughts and how the project would progress. It was decided that the solution would first create a simulation using the company's concrete products in order to see whether it would be possible to implement the project with the robot and its surrounding devices.
"Based on the simulation, we decided to invest in a robot cell, which we received in 2018. Once we had started up the device and used it for a while, we found that it was a very functional solution for our production. So we decided to invest in another, similar robot cell in 2021," says Paakkunainen, explaining the investment decisions.
Initially, significant investment was required. Outokummun Metalli's production already made use of individual robots, but the company did not yet have any experience with automated cells. They did however have some experience with the industry, and the company knew rather accurately what kind of features they would require the robot cell to have. The concept was created with the aim of finding a solution in which product processing would be fully automated. Calculations also paid close attention to manufacturing times, and the simulation helped to practically illustrate the solution in all its glory.
Better quality, higher capacity, and more expertise through robotics
All of the objectives that Outokummun Metalli set for its first robot cell back in the past have been met. The weld is more even and better throughout, and both capacity and production have risen. The second cell has improved results even further. In addition to achieving these targets, the robot cells have also provided the company with more important expertise with robotics – and Paakkunainen believes it will also be required in the future.
""Taking the next step in this technological development arc was a big factor for investment, but of course investment must produce more than it costs. The targets have been reached and our expertise with robotics and welding automation has increased significantly. We've learnt a lot about cell operation and programming. It's also important with the future in mind, as we will continue to work with robotics in any case."
Like many other Finnish metal industry companies, Outokummun Metalli has also faced challenges in workforce availability. There is a shortage of welders all over Finland. Technological solutions can be used to help overcome this challenge.
"If there is a shortage of skilled workers, the available workers must be used for work that cannot be automated. Meanwhile, it's imperative to automate work that can be automated. It would not be sensible to invest in automation that wouldn't provide clear benefits, but this staffing perspective is a big factor in decision-making. Automation helps to reduce dependence on labour and to manage when there aren't enough welders to go around," Paakkunainen says of the significance of automation from a workforce availability and human resources perspective.
Smooth and simple collaboration
Collaboration during the project went smoothly. Paakkunainen says the personal chemistry was excellent:
"At our first meeting, Jukka said you can always trust people from Ostrobothnia. And it's true, they have always kept their word. They are easy to work with and communicate with. Minor setbacks always crop up in projects, and everything has been managed well. Overall, Jucat is a reliable partner with open and honest people."